One of our featured sponsors for the month of August is Mar from Raising Bean! She is currently one of the hosts of the #PhotoadayRecap Link Party we have going on now, so if  you have #Photoaday Recap posts and you haven't linked up yet, be sure you do!
:::::::::::::::::
Hi all! I'm Mar, I blog over at Raising Bean.
Over there you'll get to know me, and my family, by reading about the fun times we share, the adventures we go on, and all the adorable pictures. My 14 month old baby girl, my little bean, is always exploring, giggling, and getting into some sort of trouble! She also enjoys rearranging my kitchen on a daily basis.
Occasionally, things between raising human babies, and pets, are similar. Some days, there are more coincidences than others.
Before having my daughter, I acquired my furry kids. I have a 12 year old husky mix, a 5 year old dachshund, 3 year old pit bull, and a 4 year old cat. I have raised them all, saved them all, and learned from them all. I also rescued my pit bulls mom 2 weeks before she gave birth to a little of 8 puppies, we made sure all 9 of them were spayed and neutered before leaving for their new homes. So I've had my share of furry babies. My daughter is my only human baby, and the first newborn I ever truly dealt with. I literally ran into motherhood blind. Thank goodness for the classes my husband and I attended at the hospital!
The other day, I was getting treats out for my three canine kids, so that Bean and I could eat out lunch without three sets of begging eyes upon us. Our dogs always sit before they can eat, and get their treats. So I naturally stared at my pit bull and said "sit down", Bean happened to be standing right next to him when I said it. They both sat in unison, and stared at me with the same Okay, I did it. Now what do I get? expression.
My precious little bean loves to explore her surroundings, new and old. Recently she's gotten into the habit of opening the drawers we keep our bluray DVDs in, and bringing them across the room to me, or giving them to the dogs by leaving them in one of their beds. So after the Sit incident, and lunch, she started unloading DVDs onto my lap. Since she had left the drawer/DVD home open I decided to see if I could toss them back into it. Thus being a lazy-toddler-mess-cleaner-upper. So with a flick of my wrist, I threw them like a frisbee towards in the direction of the open drawer. **Note: I have never been good at getting frisbees to go where I want them to. The DVDs landed scattered in the general area of the console table, at least it'll make clean up faster I thought. Want to guess what happened next? A nice game of fetch with my "helpful" baby girl. She started bringing all the DVDs right back to my lap, and I kept tossing them back towards the drawers. Lather, rinse, repeat! Wore her out, and her daily nap soon followed. Winning!
While I was cooking dinner that evening, I handed Bean a wooden spoon to entertain herself with, and she toddled over to the pet's water dish to splash in it with the spoon. Playing in the water bowl is another daily occurrence, you can read another story about it here. After a few minutes of hearing giggling and splashing while dinner is sizzling and cooking, the kitchen becomes silent. Every mom knows that when your baby's quiet that's a bad sign, unless they're napping. So I turn around and the crazy girl is about to put her face in the water bowl to take a drink. I couldn't help but laugh as I exclaimed her name. It was quite a sight to see! I grabbed her her still mostly full sippy cup from earlier in the day and she seemed satisfied. I guess she was too lazy to find her sippy cup on her own, and knew she couldn't nurse at that moment because I was fixin' our meal.
So you see, sometimes pets and babies really aren't all that different. You try to raise them both to be happy, obedient, loyal, smart, well behaved, and loving. I reinforce positive behavior with praise and snuggles for all my pets, and my daughter. Thank goodness my girl is walking though, if she was still crawling while doing all these similar things to the dogs… I may have had to start worrying!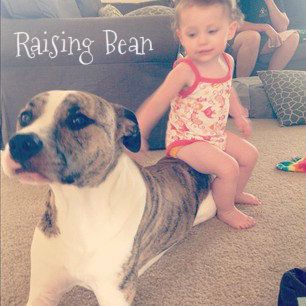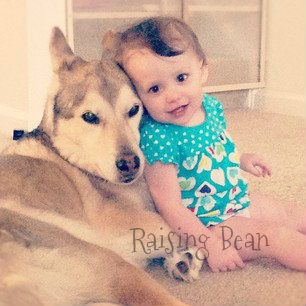 If you'd like to see more adorable pictures, and read fun stories (and sometimes not-so-fun stories) then come on over to my blog, Raising Bean, for a visit! I'd love for you to say "Hey y'all!" whenever you stop by too
Join our Newsletter!
Subscribe to get our latest content by email.